Comments Off

on Spooktacular Treats!
Candy Corn Latte. Does that bring delightful memories of trick and treating or what?
And since it's that time of year, at Miss Moffett's Mystical Cupcakes, we've been working hard to create the most haunting, spooky and scary cupcakes around. We've come up with some delectable seasonal flavors like Candy Corn and Pumpkin Spice, as well as some new and fun flavors like "Casper" and "Halloween" Chocolate (read more about these flavors here.)
Our inspiration for some of these flavors actually came from our satellite shop in Centralia, Picasso Brothers Cafe and Espresso. We were so inspired by their seasonal drink menu that we created cupcakes to match their Halloween drinks in flavor, creativity and fun. Here is their menu: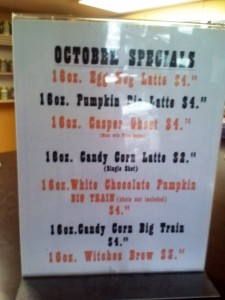 WHICH ONE DO YOU WANT TO TRY?
<3 Rachel